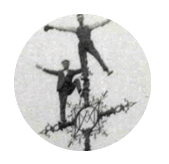 The tradition of the Mariquelos
The family of the cathedral bell founders have traditionally been given the nickname of Mariquelos since the earliest times.
In particular since the earthquake of 1755, their duties included the supervision of any possible damage that the tower might suffer. The tradition of ascending to its highest point has recently been encouraged in a thanksgiving ceremony on the day before All Saints' Day (31st October) as a result of the lack of human casualties in Salamanca during the Lisbon earthquake.