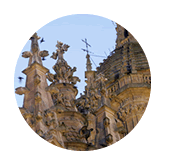 Why the name of Ieronimus?
Ieronimus is the Latin name of Jerónimo de Périgueux (1060?-1120), one of the most famous Spanish bishops of French origin, who was a key personage of the Reconquest, the chaplain of El Cid Campeador, and the Bishop of Valencia. He was appointed by Salamanca on the restoration of the diocese in 1102, during the period of its Christian repopulation by Count Raymond of Burgundy and his wife Urraca.
Ieronimus represents the origin of the exhibition because: – He marks the beginning of the 900 years of art and history of the Cathedrals of Salamanca. – He was commissioned to build the Church of Santa María (the Old Cathedral) in the initiation of a long process that has led Salamanca to be an outstanding city as it has two cathedrals: the Old Cathedral that was built between the 12th and 15th centuries, and the New Cathedral that was constructed between the 16th and 18th centuries. – He brought with him in the transfer of the episcopal headquarters from Valencia to Salamanca the oldest documents of the Salamanca Cathedral Archive (those of the donations of El Cid Campeador in 1098 and of his wife Jimena in 1101) and the famous Christ known as "Cristo de las Batallas". The latter has been the subject of fervent devotion by the people of Salamanca throughout its history and is today venerated in the chapel that bears His name in the chevet of the New Cathedral.