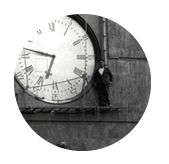 Clocks and clockmakers. The measuring of time.
The clock was to be an essential element for structuring the day with its respective hours for praying and other tasks, not only those pertaining to the cathedrals but to the whole neighbourhood.
In chapter proceedings we have a record of the first one to be placed in the church tower. In the month of September of 1378 therefore, mention is made of the construction or at least of the remodelling of the clock. This date is of great importance as this could be the first clock to be placed in a church tower in Spain.